Hi all!! I took the liberty to make today a
gang-day
! Cause we're cool like that.. so no, no packs.. no herds.. just
GANG
!!! wanna join in?!? Here's the dawg-shirt and the bling*(there's no gang without bling, man..) so here... take it!!! we gotta be cool like that!! oh and i almost forgot the sunglasses.. here, take that too!!! Now we're all good! Jump in the back of the car, turn the tunes out loud and we can start the engine crazy.... bro'(i so *suck* at slang.. but keep up with me:)
We'll make a quick stop to our old daddy
Overstock "the Spinner"
. He's the cool guy with all the good stuff:
sunglasses
*check*,
necklaces & pendants
*check*, oh and since we're here, let's take some
shoes
fo' our ol' ladies homie.. *check*, oh and we need new
sheets
and
shower curtains
.. *check*, oh and old 'nana.. let's send her a
gift basket
*check*... dawg we lost it!! let's roll dude!!
Stop dawg!!! There's
"Coolio" Belly Charms
! Dude, we're late, let's go!! No bro', my sister is pregnant, i need to get her something pimpin' nice.. a
belly button ring
.. Yeah that's hot dude! Now shoo.. let's give gas...
*bang* *smash* *kaboom*
Bro' you're gonna kill us one of these days with yo' crazy ass drivin' skills... lemme just get out here.. i need to check with my
Shadow Case "Homie"
.. we're on to somthin'.. my son's just won the baseball championship.. junior league man.. so we're framing his medal and stuff in a
shadow case
.. don't raise yo' eyebrow dawg.. I'm proud of my lil' man.. so peace out bro'
Dude if he's gone, I'm out too... my daughter is turning 3 and my wife is throwing a pimpin' party.. so i need to see how my man
"Yo Rule" Baby Birthday Boutique
is going with those crazy
decorations
bro'.. so keep it real yo'
*vruuuuuuuuum*
Shoot.. all gone... all alone.. I'm out cranking some tunes...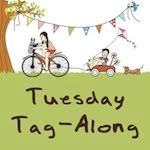 If you follow my gang from these blog-hops lemme know dawg! Peace!